A new volcano update is being hosted by the Hawaiian Volcano Observatory in collaboration with the Emergency Management Office of the Commonwealth of the Northern Mariana Islands.
The age of young lava flows on Haleakala's crater floor, East Maui volcano
Across the Hawaiian island chain in the past 200 years, eruptions have been limited to Kilauea, Mauna Loa, and Hualalai volcanoes on the Island of Hawai`i. But those living or traveling on Maui can also see evidence of very recent volcanism. Maui hosts its own active volcano, East Maui volcano, known more widely as Haleakala. Lava flows and cinder cones as young as 200-500 years in age are found along Haleakala's southwest and east coasts.

Not much older than this are lava flows and cinder cones on the floor of Haleakala Crater that were emplaced as recently as about 800 years ago. Much of the crater has been mantled by lava flows in the past 5,000 years. All these volcanic products are stark reminders that East Maui's volcano has erupted frequently in the recent past and likely will erupt again.

A geologic mapping effort begun in 1997 has yielded the most detailed and accurate picture of Haleakala's volcanic history to date. This work will culminate in a new geologic map and revised hazard assessment of Haleakala, adding much detail to the out-of-print map covering the entire volcano and compiled in the 1940s by Harold Stearns and Gordon Macdonald.

Although 500 years or more may pass before Haleakala becomes restless, it is also possible that a new eruption will begin in our lifetimes. We can better understand the precursory phenomena if we track the pattern of the volcano in repose. For these reasons, HVO maintains a skeletal seismic network on Haleakala volcano. Also we conduct surveys periodically, using GPS receivers that gather data about the volcano's surface deformation or lack thereof. See details of new mapping results.
Cities on Volcanoes 3
Meeting in Hilo, HI; 14-18 July 2003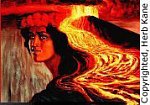 You can still register for the third international Cities on Volcanoes meeting in Hilo, Hawai`i. To learn about the meeting's program, plenary speakers, symposia and workshops, field trips, lodging, and registration, visit the Cities on Volcanoes Web site.

Archive of previous feature stories