New USGS Fact Sheet Summarizes the Ongoing Pu`u `O`o - Kupaianaha Eruption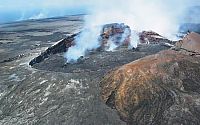 On January 3, 2003, Kilauea Volcano began its 21st year of nearly continuous eruption. Since the eruption began in 1983, lava flows have covered 111 square kilometers of the volcano, added nearly 220 hectares to the island, created local volcanic air pollution known as "vog," and drawn millions of people to experience and enjoy volcanic activity up close. This is the longest eruption on Kilauea's east rift zone in at least the past 600 years, and the volcano is not showing any sign that the eruption may end soon. A new 2-page fact sheet summarizes key aspects of the eruption.
Call for Papers Announcement
Cities on Volcanoes 3
Meeting in Hilo, HI; 14-18 July 2003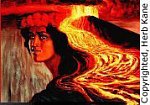 You can now submit abstracts and register for the third international Cities on Volcanoes meeting in Hilo, Hawai`i. Hot off the press, the Second Circular Call for Papers includes information about the meeting's program, plenary speakers, symposia and workshops, field trips, and lodging, as well as instructions for submitting abstracts, registration and payment online. Click here for Second Circular.

Cities on Volcanoes 3 is the third international meeting to bring together emergency managers, volcanologists, educators, sociologists, psychologists, economists and city planners to re-evaluate volcanic crisis preparedness and management in cities and densely populated areas. HVO is helping to organize this interdisciplinary meeting.



Archive of previous feature stories