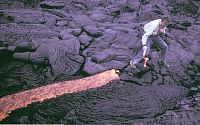 HVO mourns the death of Don Peterson, former Scientist-in-Charge in 1970-75 and again in 1978-79. He died peacefully following a massive stroke at his home in Albuquerque, New Mexico on December 12.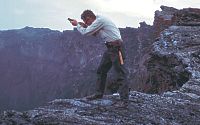 Don, together with his wife of 55 years, Betty, are remembered as gentle, kind, caring members of the small community of international volcanologists. With a permanent smile on his face, a penchant for story telling, and enormous patience, Don was well known both nationally and internationally as a stable benchmark during times of volcanic crisis.
Don prepared the first detailed geologic map of Kilauea's caldera in the mid-1960s, and from this grew a fascination with Hawaiian volcanoes that continued to his death. Active to the last, Don, at the age of 78, served as co-leader of a Cities on Volcanoes field trip to the summit of Kilauea just this past summer.
Don served as Scientist-in-Charge of two USGS volcano observatories. The Cascades Volcano Observatory was founded as a result of the massive eruption of Mount St. Helens in 1980, and Don was selected as its first SIC, in large part because of his successful tenure at HVO. He headed CVO from 1981 to 1985, overseeing its rapid development from scratch to the largest volcano observatory in the USGS.
Many on the current HVO staff have known, worked with, or worked for Don. His loss is immeasurable, his influence also. Why is it that those who are humble are missed the most?