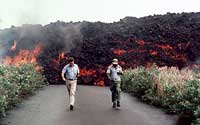 The HVO staff mourn the loss of one of our extended family. Dr. Robert (Bob) Decker, Scientist-in-Charge from 1979-1984, died at home in Mariposa, California, on June 11, 2005, following a sudden, unexpected downturn in his fight against cancer.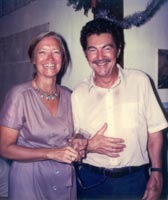 While Bob was a major influence on HVO and the volcanology of Hawai'i in general, he was a highly regarded and respected presence in volcanology worldwide. He pioneered physical volcanology work in Alaska, the Cascades, Central America, Iceland, and Indonesia. From 1975-1979, he served as the president of the International Association of Volcanology and Chemistry of the Earth's Interior (IAVCEI), the main organization to which almost all volcanologists belong.
Bob shaped much of the current Hawaiian Volcano Observatory. He organized HVO staff into our current internal organization at a time when staff had grown enough to need it. Due to daily inquiries about our work from the public, he started writing a weekly column for Hawaii Tribune-Herald that we have continued as the "Volcano Watch" more than 20 years later. He saw the need for a comprehensive collection of all the scientific papers written about Hawaiian volcanoes at HVO that now contains nearly 14,000 listings. His favorite effort, according to Barbara, his wife of over 30 years, is the creation of the Center for the Study of Active Volcanoes, the main cooperator and educational arm of HVO, at the University of Hawai'i at Hilo.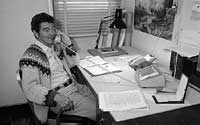 We are fortunate that Bob chose to work in Hawai'i and introduced so many innovative technologies very early. For example, he started using lasers to measure the change in distance across Moku'aweoweo caldera on Mauna Loa in 1965. Because of his early start, we have a record of the caldera's widening before the last two eruptions in 1975 and 1984. Those data are crucial to our confidence in forecasting the next Mauna Loa eruption. While we do not believe that an eruption is imminent, we know that it is coming. When Mauna Loa does erupt, Bob will be there in spirit through his many legacies.